Beautiful and healthy hair always attracts attention and allows a woman to feel seductive and irresistible. Often, chic hair is not at all a gift of nature, but the result of proper and regular hair care at home. Even the most stunning hair can look dull and lifeless if not handled or handled incorrectly.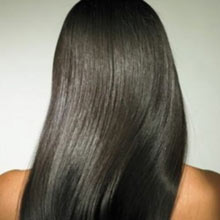 In the absence of proper, daily care, no therapeutic hair mask used occasionally will have the desired effect. If you only dream of growing long hair, I recommend reading excellent tips in an article on how to grow long and r healthy hair
One of the easiest methods is to wash your hair. It would seem that here is complicated? I washed my hair with shampoo, rinsed with water and done. In fact, there are also some special points here. First, it's important to choose the right shampoo that is right for your hair type. Sometimes I notice that after washing the hair seems thin, clumped or starts to become electrified when it comes into contact with clothes. I attribute this to the fact that the wrong shampoo. One has only to change the shampoo to a suitable one, and the hair again becomes shiny and voluminous.
Recently I have been buying shampoos of professional series, for the price they are not very different from shampoos sold on mass networks, but in quality I like much more. Recently, my shampoo suddenly ended, and I had to wash my hair with baby shampoo of our Russian brand. To my surprise, the hair after this shampoo became soft, docile and remained clean longer. Maybe this is due to the fact that children's shampoos do not add as many chemicals as usual.How to grow long hair for men
Secondly, after shampooing, apply a balm or conditioner on your hair to keep your hair smooth and comb well. But air conditioning must be used correctly. In no case do not apply to all hair from the roots, in this case the hair will be oily. Apply conditioner or balm from the middle of the hair.
Thirdly, one of the basic rules is that you can't wash your hair with too hot water, it spoils the hair very much and can even cause hair loss. For washing, it is better to use slightly warm water, and at the end it is good to rinse your hair with cool water. This will smooth the inner scales of the hair and give the hair a healthy shine. To make the hair look more voluminous and lush, after washing, you can rinse them with a nettle broth. You can also make a decoction of nettles and burdock roots.
Another tip for home hair care is to minimize traumatic factors.
Try to abandon the use of thermal hair curlers, plates, straighteners, or at least reduce their use. I prefer not to use a hairdryer, but to dry my hair in a natural way. Of course, this requires more time for drying, but the beauty and health of the hair is more important. If you can't imagine your life without using a hair dryer, then replace the hot air with cold, it will less damage your hair. Most modern hair dryers have a cold air function. Pay attention to this when buying.How to grow long hair for men
Thermal curlers can be replaced with papillots. They are long strips of soft elastic material with a wire inside. The diameter of papillots varies. The larger the curls you want, the larger the diameter you choose. It is very simple to wind hair onto papillots. Usually, I first spray my hair slightly with water, but not very much, otherwise the curls will quickly develop. If you want the curls to last longer, instead of water, you can use foam or mousse for styling. Then I wind a lock on a papillotka, starting from the tips. At the roots, the papillot is fixed due to the wire inside. I keep wound papillots on my head for about an hour. This time is individual and depends on the type of hair. My hair really does not like curls, so I have to keep the curlers longer. Who, on the contrary, has curly hair,"Curly hair. Taming of obstinate hair . "
If, nevertheless, you decide to use a curling iron or tongs to straighten, then first spray the hair with a heat-protective spray. This tool protects the hair from exposure to high temperature, while not gluing them. Typically, these products include amino acids that take care of the hair from the inside and make combing easier.
Combs and hair accessories.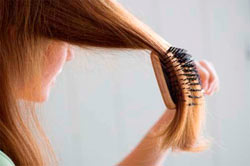 It is very important to choose the right comb. The comb should not be metal, because it can injure both the hair itself and the scalp. In addition, a metal comb can greatly electrify hair. Pick a good brush, either wooden or natural pork bristles. A plastic comb is also suitable.
You need to start combing your hair from the ends, gradually rising higher to the roots. If the hair is tangled, you do not need to brush it over and over again, this makes the hair split. In this case, you need to carefully untangle the nodules with your hands and only then continue to comb. One of the secrets is that you can not comb wet hair, as wet hair clings to a comb and stretches very much. From this, the structure of the hair is disturbed, the scales exfoliate, and the hair begins to split.
The choice of rubber bands for hair, too, must be approached responsibly. Too tight and narrow elastic can tighten hair, which can damage the hair follicle and cause hair loss. Buy wide and soft elastic bands.
Trimming the tips.
Even if you grow hair, regular trimming of the ends is a necessary procedure. After all, the tips suffer most from friction on clothes, from climatic conditions, from constant combing. I trim the tips about once every three months. After cutting, the hair looks much better, livelier and healthier.
Protection from harsh climatic conditions is also important for hair.
When you are at home or outdoors, in windy weather, it is better to collect hair in a ponytail or in a pigtail to prevent hair from tangling in the wind or rubbing against clothing.
In winter, hair should be hidden under a hat or hood so that it does not deteriorate in the cold and does not experience sudden changes in temperature. And in the summer it is advisable to protect your hair from the scorching sun. To do this, you can use either a hat or special sunscreen for hair.
Proper nutrition.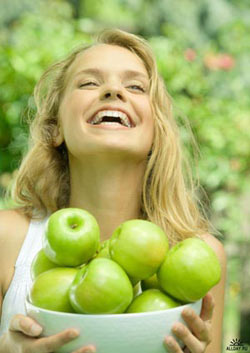 Proper nutrition is an essential element in hair care.
Healthy nutrition is necessary not only for the beauty of hair, but also is the key to youth, energy and health of the whole organism. For the hair to look chic, it is necessary that the food contains elements from all the main food groups – cereals, legumes, dairy products, fresh fruits and vegetables, meat, fish, juices. Try to minimize sweets, flour, spicy and fried foods and stop smoking and alcohol. Remember to drink plenty of clean water daily.
Nourishing and healing hair masks.
We can not say about the benefits of hair masks. I use masks every time after washing my hair. Usually I alternate folk remedies with professional masks. Since I began to use masks, the condition of my hair has improved significantly, they have become stronger, healthy and silky.What hair oils really work
I really like kefir masks for their simplicity and affordability. Before washing your hair, apply a little warmed kefir to your hair and hold for 40 minutes. Then wash your hair with shampoo as usual. After this procedure, the hair becomes much softer. Especially this mask is suitable for dry hair, since kefir nourishes and moisturizes hair well.

Another mask is honey . Honey is deservedly considered a good cosmetic product, as it contains a large amount of vitamins and minerals. Masks made of honey are suitable for both hair and face and body. Honey mask is effective for hair loss, and also helps with dandruff. To prepare it, mix 2 tablespoons of honey, 2 tablespoons of castor or burdock oil and 1 yolk. Apply the resulting mass to the hair and leave for half an hour or an hour. Then rinse with shampoo. This mask is best done in a course for two to three months. Then the effect will be clearly visible.
The masks described above help me to take care of my hair at home. But we all have different types of hair, so someone may not like it. In the article "Beautiful hair. Hair masks at home " can read other recipes for hair masks. Choose a few that you especially like, and if they suit you, do them regularly for some time to achieve a positive result. Then it is better to change the masks to others, because when the hair gets used to them, the masks may cease to have a therapeutic effect.
Daily care implies a regular and careful attitude to them. If you put all of the above tips into a habit, then this does not seem so difficult. Choose the right shampoo, use comfortable, non-traumatic hair gum and jewelry and do not forget to pamper your hair regularly with nourishing masks. As a result, your hair will thank you for its healthy and radiant appearance.
And do not forget that not only the appearance gives the woman beauty. Internal strength and self-confidence are also very important. You can find out how to become more confident in yourself from the articles of our authors in the section "How to increase self-esteem"  . Or, for starters, you can read Anastasia Gai 's excellent article "How to gain self-confidence and learn to enjoy life." Your success diary . "
source: https://www.sun-hands.ru/7uhod_za_volosami_doma.html