I really want to believe that after the article "Curly hair. Or the taming of obstinate hair ", you reconsidered your attitude to the wealth that nature gave you. If so, then I think you will be happy to find out which hairstyles can be used to remove curly hair. If your curls are still not pleasing to you, read this article: maybe, having seen a variety of hairstyles for curly hair that can be alternated according to your mood, you will change your mind.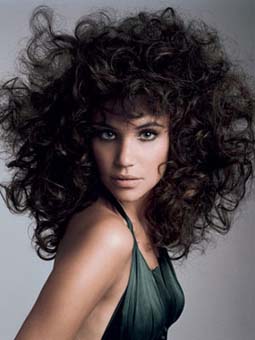 I, as the owner of curls, became a kind of specialist in hairstyles from curly hair. Experimenting with my hair, I tried to find myself such hairstyles for curly hair that would not take a lot of time, suitable for different situations, not crumble from a breeze. So that you can show your curls in all its glory in sunny weather and vice versa, hide them in tight braids when it rains outside.
In this article I will share with you my selection of hairstyles for curly hair. Since most girls with curly hair are at 
least medium length, I'll start with her.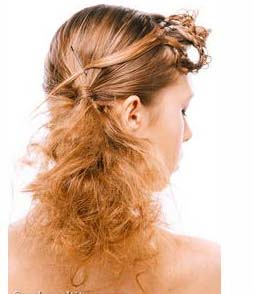 Hairstyles for curly hair of medium length:
The easiest hairstyle, which can be both everyday and weekend – an ordinary tail . Comb the hair back and collect it in a tail so that the hair adjacent to the head is smooth, not puffed. To do this, use various foams and mousses. Strands of hair collected in a tail, highlight with wax, wrap on your fingers to get beautiful curls and do not comb.
 
I experienced a real cultural shock when I made myself a wedding hairstyle in the salon. I asked for a high hairstyle with curls, confident that they would use my natural curls. Imagine my surprise when the hairdresser first carefully 
straightened my hair with an iron, and then curled it with forceps. I always sought beautiful curls with a more gentle option, which I described above.
Each time you can tie the tail in different ways: higher or lower, a little on the side – as you want today. Careless hairstyles will add as if accidentally falling strands to the face. For other tail-based hairstyles, see the article "Hairstyles for every day. A few words about elegant beauty . "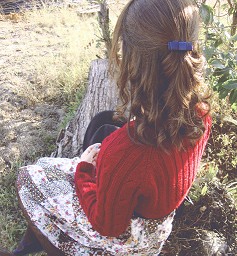 Another option for a quick hairstyle for curly hair is the malvinkawe've known since childhood . We will 
change it a little to give more charm: do not comb your hair back, but make a parting (which you usually wear) and twist the front strands that are pinned at the back of the head into bundles. 
An ordinary bun or knot looks very coquettish and romantic on curly hair . Gather hair in a high tail, twist it around the elastic. You will get a node. Fix it with invisibility, slightly tear up with your fingers to give slight negligence, and feel free to go to conquer men.
A little secret for those whose hair does not even reach 
medium length, so it is impossible to twist them into a knot. Make a tail, separate the 
strands, twist into a tourniquet and pin with hairpins. So that you do not have to 
resort to such tricks, use the tips from the article "How to grow long and thick hair"If you have already managed to grow long hair, then read on carefully.  These hairstyles can only be done with long hair.Various types of braids that are very relevant this season. "Spikelet", "basket", "fish tail" and any other types of weaving will look great on your hair. I especially note that here curly hair has an obvious advantage: due to its structural features, they will not break up like straight lines, and weaving from curly hair looks much more spectacular.There are a lot of ways to braid a braid, some of them are a real work of art from hair, but just do not get carried away, otherwise you will get a hairstyle with which you will look strange. So I will tell 
you only about those that will decorate you, and not turn into a model for hairdressing.You can read about how to weave a spikelet, a Greek braid and a French braid in the article "Hairstyles for Long Hair" , and I will not talk about these types of weaving, since there is no specificity for curly hair, unless a preliminary spray is required on hair to remove fluffiness.And I'll tell you how to weave a fishtail braid . This hairstyle looks very stylish and is suitable for both a casual look and a weekend. So, let's get started. You will need a spray, a brush (preferably made from natural bristles), gum and a little patience. Apply a spray to your hair , comb it thoroughly and put it back. Divide the hair into two parts. Select a strand from the outside and throw it to the middle. Do the same thing on the other hand. That's the whole technique. The strands should be the same width. I recommend you not to be lazy and do locks. Weave such a braid for longer, but it will look really stylish.Weave braid can be tight, but you can use free weaving. I personally like the loosely braided braid more: I like light 
negligence in appearance; Moreover, such a braid looks very voluminous. This weave is also used as an accent in the hairstyle. For example, on one side of the head weave a fishtail braid, then collect all the hair in a volume knot. Some weave colored threads into this braid, but it seems to me that this option is not suitable for everyone. However, why not?Look elegant on the long curly hair "tartlets" . The only negative of this weaving is very difficult to make by yourself. Maybe, of course, there are 
top-class craftswomen who easily make baskets for themselves, I get something awkward. By the way, I recently discovered that a basket can not even be worn on very long hair. A basket is great for a casual look. She will give you femininity and defenselessness. The basket holds well , does not crumble: you will always know that your head is in full order.So, weave a "basket". Comb the hair, parting the hair parted into two parts. Take away one part of the hair so that it does not bother you 
– many are advised to throw it over your shoulder, I personally stab with a hairpin. The remaining hair is braided according to the usual pattern of weaving braids around the head. We fix the resulting braid with an elastic band. With the other part of the hair we perform the same operation. We connect braids on the back of the head, attaching one braid to the base with another studs.  Do not forget to tear the hairstyle a little to add naturalness: for this it is enough   to pull out tiny strands of 
hair.Various hairstyles from harnesses look very impressive. My favorite option is this: divide the hair into strands, twist it with a tourniquet and stab it with decorative hairpins – here's an operational evening hairstyle for curly hair.From braids it is also possible to weave braids: two locks twisted by plaits are twisted among themselves. Such a braid must be fixed with varnish and fixed with studs, as otherwise it will quickly unravel.A few words about hair accessories. Headbands, hair clips, decorative hairpins, beautiful elastic bands; with rhinestones, with ornaments, plain, colored … there is no point in listing all hair accessories: now there is a huge selection of them, and you can always choose something to your liking. I just want to remind you that the same hairstyle with different accessories will look completely different. Also do not forget about styling products: wax for highlighting individual strands, a spray to give smoothness to hair, a strong hold varnish must be at your fingertips.Finally, a little secret. If you still really want to straighten your hair a little: apply a little foam or mousse to wet hair, comb the hair, twist it into a tight tourniquet and leave it to dry completely. When you loose your hair, you will get large curls at the ends, and absolutely straight hair at the roots. Pin hair on one side with a bright flower – you will be irresistible!Now you can see that very different hairstyles can be made from curly hair. And if not all haircuts are suitable for girls with wavy hair, then hairstyles from curls can be done absolutely any. Moreover, many of them will look much better on curly hair than on straight ones.I told you only about some hairstyles for curly hair: those that I do constantly, and I love something simple and quick to perform. Try these hairstyles, invent something of your own. Maybe you will discover your talent and begin to weave real masterpieces from your hair, and then share with everyone on the pages of the site "Sunny Hands" your secrets of a beautiful hairstyle from curly hair.
source: https://www.sun-hands.ru/7pricheski_dlya_kudryavykh_volos.html