I always looked after my hair and tried to buy good shampoos and care products, even when my salary didn't have this at all. But growing up, and learning more about the environmental conditions of our existence, I began to look for funds not only expensive, but also as natural as possible. And now, having gained experience and knowledge, I began to use natural homemade hair care products at all, I remembered how good my hair felt when my grandmother washed my hair with kefir. And now I want to share with you recipes for home masks, after which your hair will definitely be appreciated, not to mention the effect that they will have on others!
On the pros and cons of home cosmetics. I'll start with the cons. First, of course, you have to spend time. To apply the product from the tube, wait from one to fifteen minutes and rinse with water is easier than cooking it first, and then holding the mask on your head for several hours.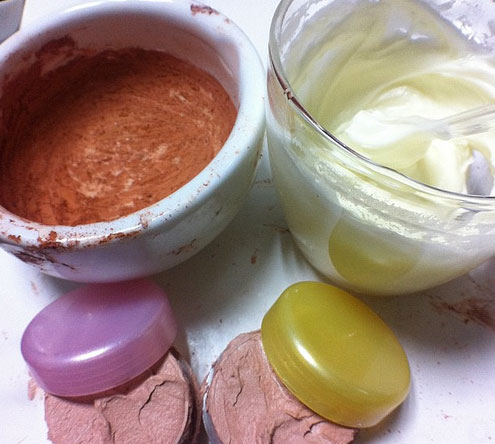 Secondly, home cosmetics, including home hair masks, cannot be prepared much for the future, and you will have to store them in the refrigerator. But the pros for me personally outweigh the minuses so much that I am ready to put up with them.
The first and undeniable plus of home cosmetics is environmental friendliness. It is unlikely that anyone would think of adding preservatives or fragrances identical to natural ones to homemade hair masks.
Further: the effectiveness of home cosmetics with the right selection is much higher than purchased. Vitamins there are living, not synthetic, and there are tens of times more active natural substances.
 The price of homemade natural cosmetics is usually much lower. Of course, only if you are not used to taking champagne baths in the mornings, and in the evenings to play Cleopatra and dive in donkey milk. Then the price can be limited only by your imagination.How to get rid of dandruff?
If you compare what you do yourself with salon procedures, the next plus will be the difference in price, and also, perhaps, in the time that you will have to spend on the way to the salon and back if it is not in the neighboring house.
And think about this with your own hands, taking your time and enjoying the process, you do something for yourself, beloved, that will make you more beautiful and healthy .
The effect of some homemade hair masks will be noticeable not only to you, but also to others, believe me. When I came to work after such a homemade cosmetic procedure, all the girls and even some men noticed my hair.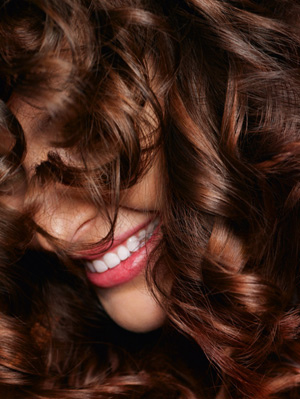 – Are you dyed? They asked me. – Not. – Have a haircut? – Not. "But you did something to your hair!" BUT!Right! Lamination !!!
This is how a very simple hair mask made at home turned out to be at the level of an expensive salon procedure. I myself was so delighted with what the hair became after using a home mask that I could not move away from the mirror. To the touch, they were just silk, voluminous, moisturized, vibrant and so brilliant that the girls from the shampoo advertisement would envy when they saw them.
The basic recipe for this homemade hair mask, of course, I found on the Internet, digging a bunch of forums, re-reading a million recipes. But the recipe turned out to be author's, because I added there those ingredients that I thought were necessary for the perfect recipe.Haircare tips and secrets
Homemade hair mask No. 1
For this mask you will need the following products:
Rye bread (I use Borodino);
Honey (only natural, the one that is sold in stores remains liquid in the winter – this is not natural);
One banana
Coconut oil (can be replaced with castor oil);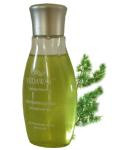 Ylang-ylang essential oil (you can also take essential oil to your taste, for example, Bay essential oil is considered one of the best for strengthening hair, cedar, sage, rosemary, lavender oils are also very good for hair). For information on how to choose and use essential oils, read the article "Essential Oils, Where to Start?"
If you do not have oils, you can do only honey, banana and bread. The effect will still be very good.
Since I am a working girl, I have no time to mess with preparations, so I did everything in several stages, which not only does not bother me, but even gives me pleasure.
I strongly advise you at any cooking, whether it is food or home cosmetics, to think about what benefits you bring to yourself. The main thing is not to rush, do everything consciously. No need to think about peeling a banana whether you have completed the report at work, drive away bad and vain thoughts. Think about the fact that you love yourself and your wonderful hair, which you take care of and indulge in homemade hair masks. If you do not love and appreciate yourself enough, read the recommendations of Anastasia Gai in the article "How to gain self-confidence and learn to enjoy life?"
The first step in preparing a homemade mask: I came home from work in the evening, cut two pieces of bread two centimeters thick from Borodino bread, cut the crusts, cut into cubes, put it in a liter jar and poured boiling water over it, covered it with a plastic bag and did other things, putting the jar in warm a place. It took about five minutes.
Second stage: the next day I peeled a banana. Be careful here : you need to not only remove the skin, but also cut off the upper knitting layer of banana pulp by about half a centimeter, which we do not need in the mask, otherwise we will not pick it out of the hair.
Then I drained the water from the bread ( do not pour it, just pour it into another dish !!!) and while watching my favorite series I rubbed the bread and banana through a sieve.
Happy owners of a blender can safely take advantage of this device.
I put bread with a banana back into a liter jar, filled it with bread infusion, mixed it well and put it back in a warm place until the next evening.
The third stage. Also in the evening of the next day we take out our two-day bread and banana "kvass", add a tablespoon of honey, a teaspoon of coconut (or castor) oil, 3-5 drops of essential oil, stir well again (before adding the essential oil you can warm it in a water bath) , apply to wet hair, wrap it with cling film (if there is no film, use a plastic bag), then with a towel or scarf and walk such a beauty from half an hour to three (it all depends on your patience, I sometimes make such a mask for the night).
If you didn't use the whole mixture, feel free to refrigerate it there, it can be stored 3-4 days until the next use.
Then wash off with shampoo. In order not to pick bread crumbs out of your hair, you should wash off such home hair masks only by rinsing your hair in a bowl, and not under the shower. Under the shower, you torment for a very long time, and not the fact that you wash your hair well.5 Easy Hand Mudras to Stop Hair Fall
If you make a mask without oils and you don't need to rush anywhere, then you can try not to use shampoo to rinse. You will also wash your hair well without using it, especially if you rinse with linden broth (1 tablespoon per liter of water, pour boiling water, leave for 30 minutes). This is all individual. Some girls manage to wash their hair without using industrial shampoos at all. When I have enough experience on this topic, I will definitely share it.
I will be very happy if the mask and all my tips will benefit our readers, let there be as much beauty and good mood in our world as possible.
Homemade hair mask, recipe number 2 – Option "home biolamination"
You will need:
Colorless henna: the amount depends on the length of your hair, 3 tablespoons are enough for my hair to my shoulders;
Coconut oil (or castor oil) – 1 tsp;
Essential oil, optionally 3-5 drops;
If your hair is from dark blond to black, and you want to add depth to the color, you can brew henna with natural coffee, a decoction of nettle or strong black tea.
For fair hair, decoctions of linden or chamomile are suitable.
Pour henna with hot water or broth to the consistency of liquid sour cream, wait 15 minutes, add oil, mix well, apply to hair. We keep from half an hour to several hours. You can at night. Wash off with shampoo, rinsing henna in a bowl. Colorless henna masks are also good for oily porous and problematic skin of the face and body. You can use henna in its pure form or with essential oils.
The recipe for a home hair mask №3 – Sleight of hand and cognac.
Another homemade hair mask is also the result of hours of freezing on forums and sites. The result is an author's recipe. The mask is cleansing, firming, nourishing, for growth and volume (if you want to grow hair quickly, read the tips in the article "How to grow long hair for men
This mask is especially suitable for those girls who often use styling products. No matter how you wash your hair, their traces still remain and even accumulate on the scalp, preventing it from breathing normally.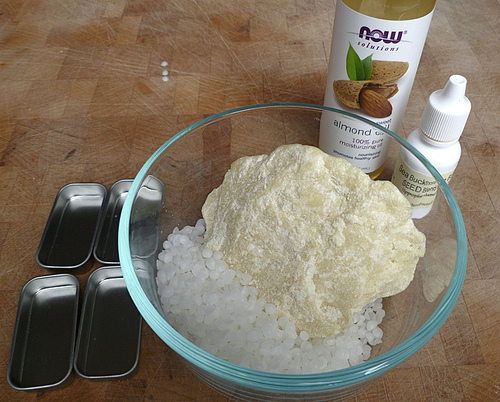 You will need:
Honey – 1 tbsp. l
Cognac – 1 tsp
Yolk -1 pc.
Sea salt – 1 tbsp. l grind, if large, you can use the usual food, if not marine.
Any suitable essential oil if desired 3-5 drops
This mask must be prepared immediately before use. First, carefully separate the yolk from the protein. Otherwise, when washing off, the protein will boil and it will be difficult to clean it from the hair. You can quickly separate the yolk in the following way: breaking the egg into 2 halves, the yolk remains in one half of the shell, and the protein fuses.
Or, in a second way, separate the yolk from the protein: break the egg into a bowl, take an ordinary plastic bottle, press it to let out some air, carefully place the neck of the yolk, weaken the pressure on the bottle – op! Yolk in the bottle! Few seconds! Cut the protein tail neatly.
The yolk was separated, triturated with honey and cognac, add salt and essential oil. Mix well, apply to the roots, gently rubbing, as if massaging. Do not overdo it so as not to damage the hair or scratch the skin with salt. Wrap the head with foil, hold for 30-60 minutes. Wash off with shampoo.
The recipe for a home hair mask No. 4 – Nettle hair mask
I use nettle in its purest form – it's just a storehouse of vitamins and minerals. This mask perfectly strengthens hair, revitalizes them, removes excess fat. For dry hair, such a mask is not recommended, very carefully used on dyed hair and blondes (especially unnatural, at risk of turning green). If your hair is dry, but you really want to try nettle to strengthen it, add 1 teaspoon of oil suitable for your hair.
We make this mask in two options. In winter we use dry raw materials, in summer – fresh green leaves.
First option.

Grind dry nettles or grind in a coffee grinder, pour 3 tablespoons of hot water until thick sour cream, cover, wrap or put in a water bath for 15 minutes. Apply to hair roots, rubbing lightly and gently. If your tips are overdried or split, apply any greasy oil to them. Hide hair under a film for 30-60 minutes. Rinse with shampoo, rinsing nettles in a basin.
The second option .
Since spring, I use fresh leaves, or rather, their juice. If you have a screw juicer – great. If not, you have to tinker a bit with the meat grinder.
We pass the leaves through a meat grinder, squeeze the juice through cheesecloth, rub it into the roots. Further, as in the first embodiment – under the film for 30-60 minutes. Such a home hair mask can be done in courses of 10 procedures before each wash. A break of 2-3 weeks, then another course. Carefully monitor the condition of your hair so as not to dry it.
Essential Oils for Hair
For oily hair, it is good to use oils of geranium, cayaput, cedar, cypress, lemon, lemon balm, mint, rosemary, pine, tea tree, sage, eucalyptus.
For dry hair, orange, ylang-ylang, lavender, palmarosa, chamomile, rosewood, sandalwood are suitable.
Bay, cloves, ylang-ylang, cedar, cypress, cinnamon, lavender, juniper, pine, rosemary, rosewood, tea tree, sage have proven themselves well for hair loss and to stimulate hair growth.
The best oils for stimulating hair growth are considered to be bay and sage, and for shine – ylang-ylang oil.
Before using any oil, I strongly recommend that you carry out an allergy test, as before using hair dye. Apply essential oil diluted in any fatty oil (at least in sunflower oil) to the bend of the elbow from the inside. Evaluate the result the next day. If in order – feel free to use. I am a person who does not suffer from any allergies, once I got into a very unpleasant situation with chamomile essential oil. She added it to her homemade face cream and began to really choke. I ran to wash away, since everything passed quickly. But it could all end badly. So again – be careful using essential oils.
General Hair Care Tips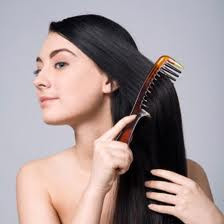 If possible, try not to blow dry your hair with a hairdryer or dry it sparingly. Do not comb completely wet hair, first dry with a towel. When drying your hair with a towel, handle it very carefully, do not twist it, but simply squeeze it in your hands, wrapping it with a towel. Do not go to bed with your head wet. Oddly enough, not everyone knows about it, but it is harmful to the hair, and in general to health. When combing hair, especially wet and long, do not tear it: start from the tips, always holding the hair with your hands so as not to pull the comb from the roots.
General recommendations for using home hair masks .
Apply masks to wet hair, so they are better distributed, and their effect will be more effective.
Do not rub heavily into the roots so as not to damage the hair. Always handle your hair very carefully!
Keep the mask from 30 minutes to three hours. Wash off by rinsing hair in a bowl, especially if the mask is using bread or other large particles, such as henna or herbal paste.
Make masks with courses of 3-7 procedures with breaks of at least three days.
Use oil masks not more than once a week, if the hair is oily – once every two weeks.
Give your hair a rest, otherwise they can be overfed. Let your hair be beautiful and healthy!