How to get rid of dandruff?
Beautiful hair testifies not only to regular and proper care for them but also to a healthy scalp. One of its most common diseases is dandruff. Each of you must have come across this unpleasant phenomenon at least once in your life. Dandruff not only causes aesthetic inconvenience but also adversely affects the quality of hair. Therefore, it requires compulsory treatment.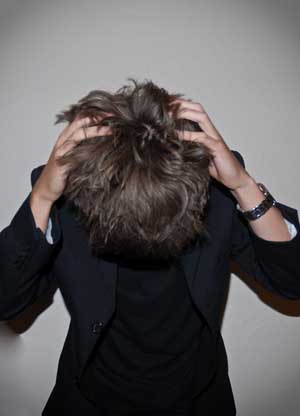 How to get rid of dandruff? Dandruff is a capricious lady. It appears when it decides that the work of your body does not suit it, and, most importantly, it is completely inappropriate for you! Because the quarterly report or the bosses from the head office arrived. 
You stress, and dandruff is the place. She does not like the nervous ones, so she appears on evil. Pacify her stress, dandruff will become boring, and she will go for a walk on the heads of other survivors. The first way to combat dandruff is maximum peace of mind. Of course, avoiding stressful situations is hardly possible in principle. But you should not obey them. The next time you decide to be nervous, imagine such unpleasant dandruff. It will certainly have a calming effect.  By the way, stress in the form of dandruff can occur three to four months after an unpleasant situation. Therefore, if suddenly you find white flakes on your head, remember the events of the near past. 
Perhaps they were the result of "snow" in the hair. The same applies to hair loss. It happens that it begins as if from scratch. But one has only to return to the recent past, and an explanation for this process is found. 
Therefore, before running to the pharmacy for shampoo or drinking vitamins to strengthen your hair, restore order in the inner world.
Dandruff appears in response to malnutrition, expressed in an abundance of fatty and sweet foods and a lack of fruits, vegetables, dairy products. First, make it a rule to eat five different fruits a day – for example, a banana, a green apple, an orange, a kiwi, and a bunch of grapes (if there are no contraindications and diseases of the gastrointestinal tract). 
Such a vitamin set will bring maximum benefit if all the fruits are seasonal, that is, no strawberries in winter and persimmons in summer. Be sure to drink a day and a half to two liters of water without gases, which positively affects the water-salt balance of the body, which, in turn, contributes to the proper functioning of the hormonal background. And this provides you with calm nerves and, as a result, the absence of dandruff. The second way to get rid of dandruff is to organize the right
nutrition.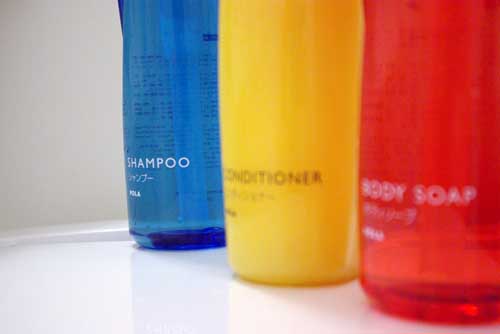 Improper hair care also contributes to dandruff.
First of all, this applies to the choice of detergents. I myself
have repeatedly found white flakes on my head after applying some shampoos, even purchased at the pharmacy and even on the recommendation of my friends. All individually. When choosing a detergent, be sure to pay attention to the expiration date! Unfortunately, you can still buy obsolete goods in stores. The use of such a shampoo can also cause dandruff. Approaching the choice of detergents with responsibility and regularly caring for hair is the third way that will allow you to avoid personal acquaintance with dandruff.Haircare tips and secrets
And, of course, to get rid of dandruff, do not abuse styling products. And if you can not do without them, be sure to wash off the funds at night. Varnishes and foams clog pores, scalp stops breathing, and dandruff forms as a result.
Be sure to observe personal hygiene. How often can you hear a request to lend a hair brush!
Even if a person does not have dandruff, each of us has its own microflora on the scalp. And if a foreign organism gets into it, dandruff is provided. For the same reason, do not wear other people's hats. Do not neglect personal hygiene – the fourth way to avoid dandruff.
There can be many reasons to provoke the appearance of "snow" in the hair. But all of them are related to the above factors. Dandruff, as a rule, is associated either with a malfunction of the body, which is caused in the vast majority of cases by hormonal imbalance (and its causes should already be sought in malnutrition, chronic overwork, stress), or improper hair care. In any case, if dandruff persists for a long time (two to three months), consult a trichologist.
From personal experience I will say that sometimes the cause of this trouble can be hidden in a very unexpected place. And only a specialist will find it.
All to fight dandruff!How to get rid of dandruff?
If this white friend became your unexpected companion, then how to get rid of dandruff at home? Pay attention to special shampoos. More effective are those that are sold in pharmacies. You cannot find your own remedy right away. To understand whether a new shampoo helps or not, two weeks is enough (provided that you wash your hair every other day or each). Apply to the ends while washing your hair.
hair burdock oil. Dandruff shampoos dry them severely, and hair can begin to break. Wet your head, grease the ends of the hair with burdock oil and only then apply shampoo. At the second soaping you do not need to use oil – it will be enough once. Do not worry that your hair will be oily. When washing the head, the shampoo drains over the entire length, it will wash off excess fat, and the ends of the hair will be under the oil as in a capsule and therefore will not lose moisture.
To get rid of dandruff with a dandruff shampoo, it is necessary to lather it  twice in a row. After the second application, leave it on the hair for several minutes and then rinse off. For medicinal purposes, the use of such a shampoo is recommended, as a rule, several times a week for a month. Then it will be enough to wash their hair once a week to maintain a positive effect. Just alternate it with your regular shampoo. In addition, folk remedies for dandruff will help well. After washing, rinse your hair with decoctions of herbs.
Decoctions of herbs not only bring positive results in the fight against dandruff but also strengthen the hair, make them soft and shiny. Rinsing hair with bread infusion is also useful. To make it, pour bread with boiling water and let it brew for 20 minutes. Then drain the water through a sieve and use it to complete the grooming procedures. What hair oils really work
In order to fix the result, wash combs as often as possible with laundry soap, especially if they are made of natural bristles. You need to change the comb every six months. This rule applies even if you are a happy owner of a head without dandruff. Darsonvalization also helps in the fight against it .
An effective tool is cryomassage of the scalp with liquid nitrogen.
The specialist separates the hair by parting and treats the skin with a cotton swab on a wooden stick, which dips in a thermos with liquid nitrogen. The duration of the course is ten procedures. But be
careful when choosing a specialist, as liquid nitrogen can cause skin burns.
If you feel a burning sensation during the procedure, tell the doctor immediately. Pay attention to such a moment. Cryomassage with liquid nitrogen is an effective method of combating dandruff, but if you do more procedures than required, it will appear again . Liquid nitrogen causes peeling of the skin, dries it. In response, the sebaceous glands begin to work more actively,
pores clog and dandruff returns. Proven on yourself. It is better to go through ten procedures, and then repeat the course after a few months. Trichologists recommend, with a tendency to dandruff, to do cryomassage with liquid nitrogen in late autumn and early spring, when immunity is weakened, and dandruff is just waiting for an opportunity to "please" us with its appearance.
There is another good remedy – Belosalik lotion. It is represented in many pharmacy chains. It must be used locally, treating only those places where dandruff is observed . The lotion is easily distributed over the surface of the scalp (the upper part of the bottle resembles a pipette), does not stick hair, leaves no residue and is quickly absorbed. The duration of a continuous course of treatment is three to four weeks. But before using it is better to consult a specialist, since the treatment regimen is always individual. I was recommended a three-week course with the
treatment of problem areas of the scalp twice a day. The tool is very effective. The main thing is regularity in use.
Try and folk remedies for dandruff.
They also prove effective in combating dandruff. A mustard mask helps very well. Dilute mustard powder to the consistency of sour cream with warm water. Apply this mixture to dry scalp 15 minutes before washing. Make a mustard mask once a week.
Another folk remedy that gives a positive effect is egg-oil wraps. Mix one egg yolk with one tablespoon of castor oil, apply to the scalp, put on a plastic bag on top and wrap with a bath towel. Wash off after half an hour. It is recommended to repeat once or twice a week.
You can make a mask with lemon juice. It will require two yolks and half a 
lemon. Pound the yolks until smooth, add lemon juice and a few drops of burdock or castor oil. Rub into the scalp every other day for a month.How to grow long hair for men
Dandruff requires immediate action on your part. If you notice her scales on the scalp, do not waste time waiting for everything to pass by itself. Pay attention to your nutrition, change the system of hair care, drink a course of multivitamins. Victory will definitely be on your side! 
source: https://www.sun-hands.ru/7kak_izbavitsya_ot_perkhoti.html