Of all the accessories available to women, beautiful, thick and long hair is by far the most desirable. It is so nice not only to have such beauty but also to make a variety of hairstyles for long hair! I will tell how to grow long and thick hair.
After all, no, even the purest diamond or an elegant chain of the white gold will decorate as beautiful and long hair. As the saying goes, a woman with luxurious, thick hair is already a beauty. But the vast majority of the fair sex have to make a lot of efforts so that the hair becomes long. So that they radiate health, they are thick and attractive to the eye. By the way, to make your hair beautiful, it is important that there is no dandruff. Read about how to get rid of dandruff in the article "How to get rid of dandruff." The beauty of your hair. "
How to grow long and thick hair:
Below I will tell you about the ways and methods that helped me achieve this goal, grow long hair, make it thick and healthy. I hope my advice will bring you the beauty and shine of your hair.
First , you need to get rid of the first problem, and this is dry hair, and, as an immediate consequence, the cross section of the ends. Like any girl with a slight touch of romanticism in character, I always imagined myself to be a sort of fairy with a long, shiny and invariably wavy mane. But in fact, a mediocrity with a tail, ten centimeters in length from a force of ten, looked at me from a mirror. The rest, as we grew, had to be cut, because these bifurcated ends were simply terrible. Better a mini tail.
But then the following happened. Being on summer vacation at sea , for those two months I became addicted to watching the notorious series, and the protagonist's long hair filled my heart with longing. No, even the most well-groomed tail did not go into any comparison with them! Upon arrival home, I firmly decided: I am growing my hair, no matter what it costs.
But soon the fairy tale affects, but not soon the thing is done. I began by revising my entire arsenal of hair care, paying direct attention to the chemical composition of shampoos and balms. And, of course, I saw the famous SODIUM LAURETH SULFATE there. But not only.
After analyzing several scholarly articles from the Internet, I came to the conclusion that he is not an absolute evil at all. The first place in this undoubtedly belongs to silicones. It is not so important whether they are water soluble or not. Enveloping your hair and scalp with an invisible film, they prevent the penetration of nutrients, as well as the full respiration of skin cells. The manufacturer claims that silicones thereby protect the structure of the hair from damage. Perhaps, but not by much. But I think that the most negative property of silicones is that when they are used for a long time in shampoos and balsams, hair gets used to them and without them begin to fluff and terribly electrify. Which, in fact, happened with my poor hair when I refused silicones.
How to grow long and thick hair: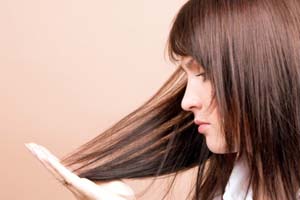 But I am a stubborn girl, and, knowing that I am on the right track, I did not return to shampoos and balms with silicones. And, lo and behold, about three weeks passed, and my hair stopped fluffing and electrifying. Moreover, they began to fit perfectly without the use of any balm.
I washed my hair with shampoo, dried, and that's it. As a bonus, they began to drop out much less.
When choosing a shampoo, I advise you to pay attention to the presence of silicones in it, which can be found at the ends of the listed ingredients: -ane, -one, -thiconol, -thiconol, -silane.
As an example: dimethylpolysiloxane, dimethicone, dimethiconol, phenyldimethylpolysioxane, phenyldimethicone, cyclomethicone, aminopolysiloxane ou amodimethicone. Seeing such elements in the composition, feel free to put the shampoo back on the shelf.
Again, you need to solve the problem with hair loss. I advise you to read the article with recipes for hair growth masks here . I first encountered this at the age of 15, washing my hair with shampoo, bought in some dubious stall on the outskirts. After that, my hair began to fall out at a tremendous speed. For a month they left an equal third of them, and panic came over me, because they did not even think to stop! What thick hair can we talk about if they fall out in such quantity.
At that time, there was little money in our family, and of course, there was not enough money for the trichologist and other doctors for expensive treatment. It was urgent to find an effective budgetary tool. Fortunately, it was found – onion juice.
But what about the smell, you ask. For me, this question was also not of last importance, but read on how to grow long and thick hair.

So, the second recipe: we grind two large onions in a meat grinder, with the help of gauze we separate the onion pulp itself, we only need juice. Two hours before shampooing, apply onion juice to the roots of the hair, massaging thoroughly. Wrap the head with a cotton towel, on top of a plastic film. Two hours later, wash my hair with shampoo. We dry hair, preferably without the help of a hair dryer. Odor on the hair will not remain.
This remedy helps with hair loss in the shortest possible time. My hair stopped falling after the third application of onion juice, and two months later all my initial hair was in place.
Unaesthetic appearance. As I mentioned above, my hair was not characterized by a beautiful glossy shine, they are porous and do not reflect light well. But I firmly decided to get a chic mane, and perseverance is always rewarded.
Therefore, the third point , my little recipes, which together give excellent shine and smoothness to the hair.
– Daily intake of flaxseed oil. Flaxseed oil contains an indispensable polyunsaturated fatty acid Omega-3, which is necessary for the proper functioning of every cell in the body, and our body is not able to independently produce this acid. After a month of taking linseed oil, every morning, one tablespoon each, I was once surprised to find that I did not need face and body cream, the skin without it was smooth and soft. And the oil affects the hair just fine, the gloss increased by 40%.
– Rinsing decoctions of herbs. Reception is common, but not everyone knows the nuances. Firstly, you need to know that different herbs have different herbs. For dark ones, nettle, oak bark, hop cones (probably the best natural remedy for hair volume), and coltsfoot are most suitable.
For fair hair, chamomile and a decoction of calamus rhizome are suitable.
It is very important that after washing the hair should dry out almost completely, and only then it is necessary to rinse, because wet hair and scalp do not absorb the beneficial ingredients of herbs poorly.
An example of preparing a decoction: take three tablespoons of hop cones, put in an enameled pan, pour 1 liter of boiling water, leave for 1 hour, cool, filter through a sieve. Rinse hair with this broth. When using other herbs, the proportions and infusion time do not change.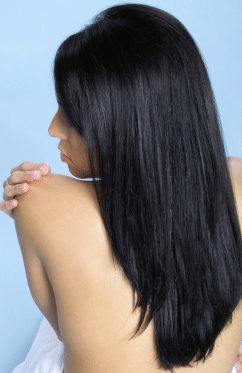 – Aroma combing. A very simple, fast and effective way to give shine to hair. On a wooden comb with frequent teeth, apply a few drops of essential oil (the one you like best by smell, I personally prefer ylang-ylang) and comb your hair. This is a good prevention of the appearance of cut ends.
If the hair is naturally prone to greasy, it is better not to use aroma combing.
– Mask for nutrition and shine of hair. Take 1 tablespoon of flaxseed oil, two tablespoons of honey, 3-4 chicken yolks, mix it all and apply to hair. Wrap with a cotton towel and leave for 40 minutes. Wash off with shampoo. This mask should be done twice a week for a month. The effect is not long in coming.
Well, in general, and all that concerns my hair care and tips on how to grow long hair. It should be noted that I use hair balms extremely rarely and more likely in my mood than in need. When choosing both shampoos and balms, I focus not on the price and brand popularity, but on the composition, and it is also worthy of very inexpensive brands. All of the above carefully and completely justifies itself, today my hair is long, until the middle of my back, quite thick and shiny, I love to let it loose, knowing that the people around me will admire my chic hairstyle.